Mass Media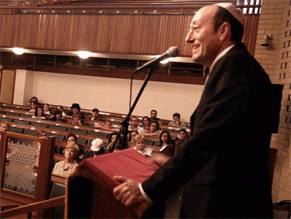 Alexander Mashkevich adresses the Clarewyn
Hebrew Community

Hachnasat Sefer Torah in C-Town

19.02.2010

On Thursday 11 Feb a Hachnasat Sefer Torah (Torah Dedication) ceremony took place at the Claremont-Wynberg Hebrew Congregation after Minchah-Maariv. The Torah was presented by the Euro-Asia Jewish Congress (EAJC) President Alexander Mashkevich in memory of local Jewish communal giant Mendel Kaplan.
Mashkevich was part of the most senior Jewish delegation ever to visit South Africa, comprising some seventy delegates from the Congress of Presidents of Major American Jewish Organisations and the EAJC.
A highly successful businessman and prominent philanthropist who hails from Kazakhstan, Mashkevich has been at the forefront of initiatives to restore and equip synagogues, build schools and finance higher Jewish educational projects in the Former Soviet Union countries and further afield.
He describes the donation of Sifrei Torah as the program "most dear" to his heart.
Addressing the World Jewish Congress meeting in October last year, he stressed how Jewish communal life was based on the Torah, which meant that every synagogue, yeshiva or Jewish school needed to have a Torah scroll. The very presence of such Scrolls, he said, were "a reminder of the symbol of the Jewish people and the code of honour that they all submitted to".



Visit of international Jewish delegation

with David Saks


This week at the Board has been dominated by the visit of a 65-person delegation representing the Congress of Presidents of Major American Jewish Organisations and European Jewish Congress. The Board arranged a packed programme for the delegation.
Some of the highlights of the COP-EAJC visit so far:
Guided tour of the Apartheid Museum and Soweto
Visit to SAFA House to learn about the forthcoming FIFA World Cup in SA
Meeting with Deputy Chief Justice Moseneke and other Constitutional Court Justices followed by guided tour of Court
Business Dinner hosted by INVESTEC Bank
Meeting with ANC Secretary-General Gwede Mantashe and other top leadership at the historic Lilliesleaf Farm
Luncheon with Johannesburg Jewish communal leadership and dinner with Cape Town Jewish leadership.
Visit of Maafrika Tikkun (Cape Town) Outreach Projects in Mfuledi and Delft
Meeting African Jewish Congress leaders (Botswana, Swaziland, Zimbabwe)
Meetings with various SA Government Ministers

The delegation leaves on Monday 15 February.