Reading Room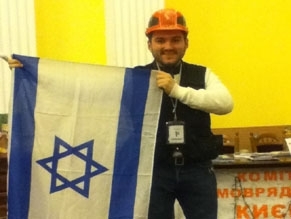 Revolutionary and flag of Israel. Photo from Facebook.

"We could win any revolution with this kind of support," says activist

07.02.2014

Ruslan Andriyko, a Maidan activist wrote in his Facebook account: "Three real live residents from the Jordan Valley visited us today)) They gave us a flag and said that they supported the revolution too, and that they flew in from Israel to support the Ukrainians! So I think... With this kind of support, we could win any revolution))"