Analytics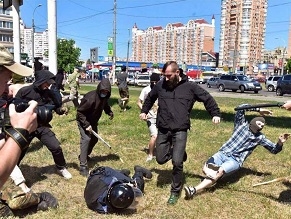 Violence during LGBT Equality March, Kyiv, June 2015.

Annual report on xenophobia in Ukraine in 2015

06.09.2016, Xenophobia and anti-Semitism

In 2015, as in the previous year,

the definitive problem influencing not only xenophobia, but general human rights violations in Ukraine, is Russian military aggression.

Nonetheless, there are certain changes in the dynamics of the situation.
In general, the xenophobia situation in Ukraine has slightly improved. The monitoring recorded fewer violent incidents motivated by hatred. However, the level of xenophobic vandalism, and anti-Semitic vandalism in particular, remains relatively high.
In comparison to 2014, the situation has become slightly less strenuous even in the puppet regimes created by the Russian aggressors in occupied territories of the Donetsk and Luhansk regions. The reasons for this are twofold: first of all, the fighting has decreased in intensity and, second, groups that were disloyal or potentially disloyal to the occupants have been either destroyed or forced to leave the occupied territories. Neo-Protestant charismatic churches (which used to be plentiful), foreign students, Roma, Mekshetian Turks, and a large part of the Jewish community have all largely vacated the territories. Leaders of the puppet regimes of the so-called Donetsk and Luhansk People's Republics regularly make anti-Semitic statements, but we have not recorded any anti-Semitic crime in LNR and DNR.
In the occupied Autonomous Republic of Crimea, on the contrary, the situation continues to grow worse. As in the first year of the occupation, the Crimean Tatars continue to be systematically discriminated against by the occupational government. Persecution of the independent Crimean Tatar movement has grown stronger, organizations and media outlets are being dissolved. Xenophobic violence has become more frequent.
The full text of the report you can download here (*.pdf).