Euroasian Jewish News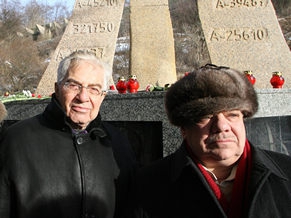 Frank Meisler and Professor Michael Chlenov

Last Act of the Holocaust Memorialized

31.01.2011

On the 30th of January, the delegation of the Euro-Asian Jewish Congress (EAJC), headed by Congress Secretary General, Professor Michael Chlenov, participated in the opening ceremony of a memorial to the victims of the Holocaust in the Yantarny settlement (former German Palmnicken) in Kaliningrad Oblast.

Here, on the shore of the Baltic Sea, on the night of January 31, 1945, the last act of the Holocaust took place. Around 7 thousand Jews, sent here in a forced "march of death" from Kenigsberg, were shot.

The seven-meter high granite memorial to the "Victims of the March of Death," made in the form of hands raised to the sky, was erected using the funds of the Kaliningrad businessman Vladimir Katzman, who heads the initiative group for the immortalization of Holocaust victims in Palmnicken. The author of the monument is the world-renowned Israeli sculptor Frank Meisler.

The opening ceremony was participated by the Deputy Plenipotent Representative of the President of the Russian Federation in the North West Federal District Alexander Datsyshin, Governor of Kaliningrad Oblast Nikolai Tsukanov, representatives of the diplomatic corpus, Jewish community leaders, and important figures in culture and art from Russia, Israel, Germany, Poland, and Lithuania.

During his speech at the ceremony, Professor Michael Chlenov gave its participants the salutations of the EAJC President Alexander Mashkevich, and underscored that the preservation and immortalization of the memory of the Holocaust is a sort of inoculation against the brown plague of Fascism, which must be made again and again lest we fall ill.