Euroasian Jewish News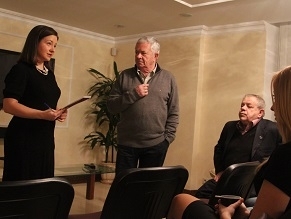 Rami Kornblum (center) and Michael Chlenov at their meeting with Jewish activists

EAJC Moscow Office Visited by Representatives of World Confederation of United Zionists

06.02.2014, Russia

The Euro-Asian Jewish Congress (EAJC) and the Zionist Federation of Russia invited representatives of the World Confederation of United Zionists Rami Kornblum and Director of the Confederation House in Jerusalem Efi Benai for a visit for Moscow.


The EAJC Moscow office hosted a meeting between the Confederation representatives and the activists of the Shahar youth Zionist movement. Among those who spoke at the meeting were EAJC Secretary General Michael Chlenov and Shahar leader Alexander Kargin.


As Michael Chlenov noted, "The World Confederation of United Zionists is close to the Congress in spirit - first of all, through its non-party character, and second, through its constant support of the State of Israel, which is one of EAJC's strategic tasks as well.