Euroasian Jewish News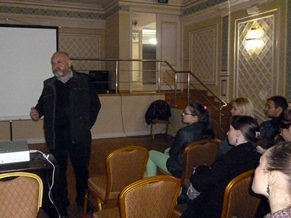 Alexander Baron speaks at showing

"The Second Coming" Of Ilya Tatelbaum

11.04.2014, Jewish Communities

On April 4, 2014, the House of Friendship of Almaty hosted a presentation for a documentary titled "Teacher of Music." The presentation was organized by the Jewish community. The movie, directed by Lavrentiy Son, shows the fate of Ilya Tatelbaum, a Jewish musician who has been undeservingly forgotten.


The showing gathered a large and interested audience, first and foremost consisting of the young people of the community. When opening the evening, Euro-Asian Jewish Congress Presidium member, President of the Mitzvah Association of Jewish Communities and Organizations of Kazakhstan Alexander Baron spoke about the "second coming" of a movie that has been successfully shown in Europe, Japan, and Korea.


The name of the hero of the movie, the Jewish composer and conductor Ilya Moiseevich Tatelbaum is not to be found in any encyclopedia, despite his former popularity - folk songs in his adaptation were sung in Jewish schools of Poland and Lithuania, and a collection of over a hundred songs was being prepared for publication. But with the beginning of the war, Tatelbaum's named disappeared from the pages of the history of music - he was one of the 5000 Jews, social and political activists and cultural workers who were deported from Lithuania to Siberia and Middle Asia a week before Germany attacked the USSR, and then were placed into compulsory labor camps.


The chairman of the Korean collective farm, Kim Guan Thek, a feisty and difficult man with a love for music, found the musician building the Tashkent channel. It will probably not be an exaggeration to say that the chairman saved the musician's life, because by the time of their meeting Tatelbaum had been exhausted by the back-breaking labor and had almost gone blind. He lived at the Korean collective farmhold, teaching children how to play musical instruments and read musical notation. After the term of the exile concluded, Tatelbaum went to Minsk, but the people of the collective farm retained a long and good memory of him.


"Such documentary and historic testimonies to the fates of our fellow kinsmen are an irreplaceable instrument for strengthening inter-ethnic peace today, and that is very important for the young generation," Alexander Baron stressed.