Euroasian Jewish News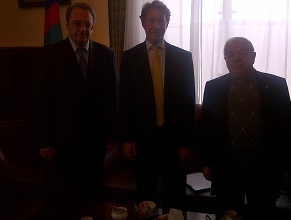 From left to right: Mikhail Bogdanov, Peter Weinzierl, Michael Chlenov

EAJC Representatives Meet with Deputy Foreign Minister of Russia

30.05.2014, Russia

On May 30 in Moscow, Michael Chlenov, Eurasian Jewish Congress Secretary General, and Peter Weinzierl, the EAJC President's personal representative, met with Mikhail Bogdanov, Deputy Foreign Minister of Russia.


Peter Weinzierl described the EAJC President Julius Meinl's business activity, noting that the "Meinl" company working in Russia long and productive and intends to develop this area of its activities. He also stressed that the new status of Julius Meinl as EAJC President opens new opportunities for cooperation.


Mikhail Chlenov briefed the gathering on current activities and prospects of the EAJC. The discussion was focused on the situation in Ukraine and the positions of international Jewish organizations on this issue.


According to the EAJC Secretary General, meeting was held in a warm atmosphere and was constructive. The sides outlined ways of possible interactions between the Congress and the Russian diplomacy.