Euroasian Jewish News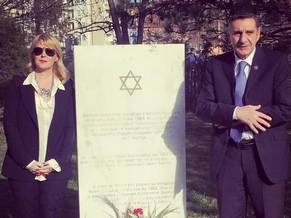 Jelena Djurovic and Votim Demiri

Vice-President of the Montenegrin Jewish Community visited communities of Macedonia, Albania and Kosovo

01.03.2016, Community Life

Jelena Djurovic, Vice-President of the Jewish Community of Montenegro (member of the Euro-Asian Jewish Congress) visited Jewish communities of Macedonia, Albania and Kosovo. She met with Presidents of the Communities: Berta Romano Nikolik (Macedonia), Geront Koreta (Albania) and Votim Demiri (Kosovo). Jewish leaders were interested in the themes and topics that will be addressed on the next "Mahar" Conference, scheduled for last week of October 2016.
During the visit she also met with some government officials in Skopje, Pristina and Tirana and exchanged views on refugee crisis and shared mutual concerns. Also, in Pristina, Jelena Djurovic met with members of interfaith dialogue board: family Demiri, archpriest Srdjan Stankovic (Gracanica Monastery), pastor Artur Krasniqi, Catholic priest Kastriot Idrizi and Vedat Sahiri, principal advisor of the Grand Mufti of Kosovo.