Euroasian Jewish News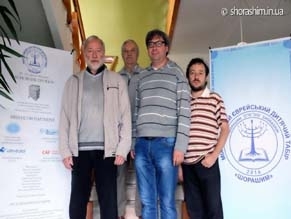 Photo credit: shorashim.in.ua

"Shorashim - Ukraine - 2016" Camp Opens

22.08.2016, Region

The "Shorashim - Ukraine - 2016" international Jewish children's summer camp, sponsored by the Association of Jewish Communities and Organizations (VAAD), has begun. The opening ceremony took place on August 20. Children from Ukraine and Israel are participating in the camp.

The camp will feature ten intense days filled with the history, culture, and traditions of the Jewish people. The program, prepared by 20 experts on informal Jewish education, is aimed at fostering Jewish identity and to strengthen the ties of the participants with the Jewish people. The camp will include interactive workshops on Jewish studies in Ukraine, the Diaspora, and Israel; on teaching leadership and creative skills, as well as other hobby-oriented workshops and studios. The camp also features a sports program and tours to places of Jewish importance and other cultural heritage sites in Ukraine.

Organizing the camp was made possible with the financial and organizational support of the Kyiv office of the Euro-Asian Jewish Congress, JAFI, the Genesis Foundation and the Charities Aid Foundation. The camp was also sponsored by Mikhail Bergman, Oleg Vishnyakov, Igor Kerez, Aleksandr Klyuzner, Roman Korenblit, Konstantin Kruglov, Chaim Shaposhnikov, and Vladimir Shpilfogel.