Euroasian Jewish News

"Sources of Tolerance - Caucasus - 2016" Camp Ends Work

04.09.2016, Jewish Communities

The fourth "Sources of Tolerance - Caucasus - 2016" camp has completed its work on August 31 in Atsuri village (Borjomi region, Georgia).

Children from 4 countries spent 10 days learning about different cultures through song, dance, tradition, and religion. For example, during Azerbaijani day the participants learned about the art of dialogue called Meykhana, an Azerbaijani type of national rap; during Ukrainian day they learned that "gopak" is not only a national dance, but also the base for a contemporary style of martial arts; during Jewish day they learned what a religious wedding ceremony looks like; and during Georgian day they learned that Georgian cuisine is more varied than even the Georgian participants thought!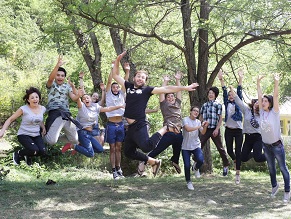 At the opening ceremony, the children received a task from pirates: throughout the camp's work, they needed to find map pieces. They finally were able to put the pieces together at the ending ceremony, thus uncovering the location of the Golden Fleece. The secret of the Golden Fleece was that friendship and tolerance are keys to everything.

Next, the participants were given the opportunity to recall the traditional songs and dances of different cultures that they learned in the camp, and each group had the chance to present their own impressions of the camp through skits, videos, and static figures. The camp's guidance counsellor danced the Jewish dance "Kan," and officially declared the camp closed, to many protests from the audience. The team of "Sources of Tolerance - Caucasus - 2016" and the children were all satisfied with the camp and eagerly await next year to implement new ideas.

The camp was held with the financial and organizational support of the Euro-Asian Jewish Congress Kyiv office and the Congress of National Communities of Ukraine.