Euroasian Jewish News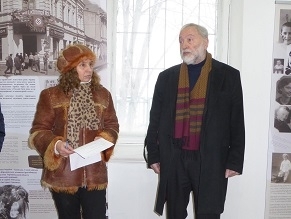 EAJC GC Chairman Josef Zissels and Director of the Judaica Institute Yulia Smilyanskaya (photo by Elena Zaslavskaya)

Josef Zissels speaks at "Babiy Yar: Histories and Fates" exhibition opening

30.01.2017, Ukraine

On January 27, the Chairman of the Euro-Asian Jewish Congress General Council, co-President of the Association of Jewish Communities and Organizations (VAAD) Ukraine Josef Zissels spoke at the opening ceremony for the "Babiy Yar: Histories and Fates" exhibition. The exhibition was organized by the Babiy Yar International Memorial Fund, which was founded in 2016 by VAAD Ukraine. The Chairman of the Trustee Board of the Fund is the VAAD Ukraine Co-President Andrey Adamovsky. The goal of the exhibition is to remind the visitors about several horrid events that took place in Kyiv: the occupation of Kyiv, the mass shootings which took place in the fall of 1941, the history of the Syrets concentration camp, the history of the Holocaust in Ukraine, as well as about the Kurenivka tragedy of 1961.

The exhibion is housed at 44 Melnikova str., in a 19th century building planned by the famous Kyiv architect Vladimir Nikolayev. Up until 1917 the building housed the administration of the Lukyanovske Jewish cemetery. During the Soviet period it was used as a dorm building for athletes. The building has been out of use for the last several decade and had become a derelict. In the second half of 2016, the building became the property of the Babiy Yar National Historical Memorial Preserve. The opening of the "Babiy Yar: Histories and Fates" exhibition is the first step towards the creation of a Babiy Yar Museum in Kyiv.

The opening ceremony was attended by representatives of the embassies of Israel, Germany, and the USA, MP Nikolai Knyazhitski, Chairman of the Jewish community of Kyiv Aleksandr Loyfenfeld, Emeritus Builder of Ukraine Vladimir Pinchuk, and others.

The exhibition will be open until February 10 (with the exception of February 2 and 4). Opening hours are 14 to 17. Guided tours can be requested by phone: +38050 469 2963.