Euroasian Jewish News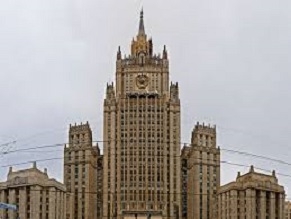 The Russian Foreign Ministry

Comments on crisis: Russia held Israel responsible for the latest escalation

13.11.2018, Russia

UN Special Coordinator for the Middle East Peace Process tweeted that the "#UN is working closely with #Egypt and all concerned to ensure that #Gaza steps back from the brink. The escalation in the past 24hrs is EXTREMELY dangerous and reckless. Rockets must STOP, restraint must be shown by all! No effort must be spared to reverse the spiral of violence."

Palestinians in Gaza have fired more than 300 rockets at Israel, while the IDF has struck 70 targets in the Strip.

If both sides "fail to exercise maximum restraint, the situation will deteriorate significantly," a diplomatic source told The Jerusalem Post. Each rocket and IDF strike threatens to create a situation that would make another Gaza war inevitable.

UN Secretary-General Antonio Guterres said that "a new war in Gaza would be an incredible tragedy. We must avoid it at all costs."

The EU's Ambassador to Israel Emanuele Giaufret tweeted that he was "following with great concern the situation and the indiscriminate firing of rockets toward the south of Israel. Attacks on civilians are unacceptable and need to stop. Everyone must step back from the brink."

The Russian Foreign Ministry agreed that the situation was dangerous because it could lead to a large-scale military operation and force a humanitarian collapse in Gaza. "Moscow looks with deep concern over this dangerous escalation," its ministry said.

Russia held Israel responsible for the latest escalation, noting that it was provoked by Israel's military operation in Gaza on Sunday night. Furthermore, the Russian Foreign Ministry called for the reunification of the Fatah and Hamas factions, and the resumption of a peace process with a two-state solution based on the pre-1967 lines.

Hamas has ruled Gaza since it ousted Fatah in a bloody coup in 2007. It is presumed that any successful peace process must also include the end of that bitter rivalry.