Euroasian Jewish News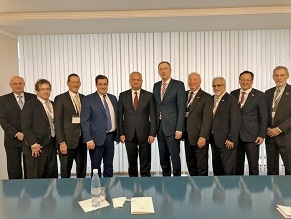 NCSEJ with (3rd, 4th from right) Moldova Jewish Congress President Emmanuil Grinshpun and President of Moldova Igor Dodon.

NCSEJ in Moldova Meets with President Dodon

13.05.2019, Jewish Communities

On Wednesday, May 8, 2019, National Coalition Supporting Eurasian Jewry (NCSEJ) began its 2019 Mission to Moldova in the capital city of Chisinau (Kishinev). The eight-member delegation traveled to Moldova to learn about the current condition of the Moldovan Jewish community and to advocate for issues of concern.

The delegation is being hosted by President of the Moldovan Jewish Community Alexander Bilinkis and the President of the Jewish Congress of Moldova Emmanuil Grinshpun.

The day began with a breakfast at the residence of U.S. Ambassador to Moldova Dereck J. Hogan, where the group discussed concerns related to the U.S.-Moldova bilateral relationship and the current situation of the Jewish community.

Later in the morning, the delegation met with President of Moldova Igor Dodon at the Presidential Administration Building, followed by a lunch with Speaker of the Parliament of Moldova Andrian Candu.

In the afternoon, NCSEJ participated in a educational roundtable sponsored by Minister of Foreign Affairs and European Integration Tudor Ulianovschi and Minister of Education, Culture, and Research Monica Babuc, on promoting Holocaust education and preventing hate crimes. At the roundtable, Minister Babuc announced plans to expand the curriculum for Holocaust education in Moldova's public school system.

The group then met with Minister of the Economy and Infrastructure Chiril Gaburici.

In each meeting with Moldovan government officials, NCSEJ raised issues regarding: restitution of Jewish communal property; anti-Semitic campaign rhetoric in lead up to the February 2019 parliamentary election; equal rights for all religious denominations; and the plan to establish an open-air Jewish museum at the site of the Kishinev Jewish cemetery.