Euroasian Jewish News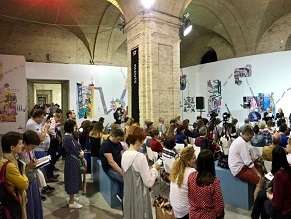 Discussion, 26 May 2019: "Stettl: Together and Apart" at the IX International Book Arsenal Festival 2019.

Jewish discussion on Kyiv 'Book Arsenal' Festival

10.06.2019, Ukraine

"The discussion was incredibly unpredictable, metaphysical, and current, even though it concerned phenomena that would appear to be steeped in the past." This was what our old friend and moderator Andriy Pavlyshyn said about the two discussions that took place this year at the Book Arsenal, held thanks to the support of Ukrainian Jewish Encounter.

The first video of our program is the discussion "Shtetl: Together and Apart." The panel discussants were the journalist and commentator Vitaliy Portnikov; writer Andriy Lyubka; the well-known Israeli translator Victor Radutsky; Mariana Maksymiak, director of the Agnon Literary Center (Buchach); Rabbi Jeffrey Saks, Director of Research, Agnon House, Jerusalem (with a video commentary); and Natalia A. Feduschak, Director of Communications, Ukrainian Jewish Encounter. The lively debate was moderated by the prominent Ukrainian translator Andriy Pavlyshyn.

The discussion about inter-ethnic dialogue developed around the Hebrew- and English-language translation of the collection of essays The Key in the Pocket, which features texts by the Ukrainian writers Sophia Andrukhovych, Andriy Lyubka, and Yevheniya Senik. This collection is the result of the short-term literary residency in Buchach and pertains to the literary heritage of Nobel Prize winner Shmuel Yosef Agnon. The discussion was an opportunity to become better acquainted with Ukrainian projects related to the topic of the Ukrainian–Jewish dialogue.