Euroasian Jewish News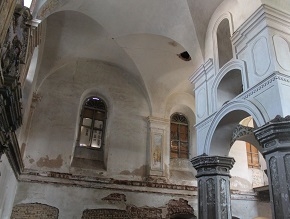 The dilapidated synagogue in Slonim

Charity looking to 'build a Jewish route through Belarus'

14.08.2019, Jewish Communities

A British Jewish charity has said it is working with European partners to develop a project to "build a Jewish route through Belarus".

Volunteers from the Together Plan Charity and the European Association for the Preservation and Promotion of Jewish Heritage and Culture (AEPJ) are set to begin a "trailblazing" journey through the country later this month.

"We will be meeting Jewish communities, holding workshops, exploring our own Jewish stories and considering the importance of Belarus to the Jewish world," said Together Plan founder Debra Brunner.

Until recently, Yiddish was a national language in Belarus, the birthplace of many of Israel's founding fathers, such as Chaim Weitzman, Menachem Begin, Shimon Peres and Yizhak Shamir.

"We will travel to places most people cannot find, including Bronna Gora, massacre site of 50,000 Jews in the Brest region," said Brunner. "This is all part of our work to revive Jewish life in the former Soviet Union."

The charity sends humanitarian aid, runs Jewish youth programmes and even translates memory books of ghetto survivors from the country. It is currently working on a campaign to save the Great Synagogue in Slonim, built in 1635.